"Welcome.... We are the #1 Resource of Mach 1 Information and Parts available on the Internet. I hope we can make this your #1 stop for Mach 1 Information & Products on the internet! There is NO Cost to Register your NEW Mach 1 and you can browse and use this site to gain more knowledge about this limited production vehicle. We have many new and exciting products coming out.
We are teaming up with manufacturers to give your Mach 1 a personalized touch.
Keep checking the "Products" section for latest Offerings.

We are the Only dedicated 2003-04 Mach 1 Site on the Internet. We have the one and only '03-04 Owner's list (over 12,000+ members), We Currently have over 1.2 Million Messages in the message forums, over 7500+ Mach 1 Images in the photo gallery and much more!!!
Take a look around and enjoy yourself. Any questions or comments, please email us!"
Celebrating over 10+ Years of Mach 1 Support and Enthusiasm!!

- Dave Wagner, Founder/Webmaster
Founded May 23, 2002



Find us on FACEBOOK
---
Mach 1 Registry becomes an "OFFICIAL" Ford Performance Group Affiliate Club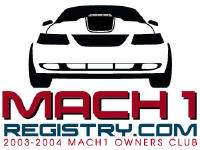 http://www. FordPerformanceGroup.com

What does it mean?
Well, after a LONG wait and discussions and everything else, we are NOW an OFFICIALLY Recognized Affiliate Club with Ford Performance Group. http://www.fordperformancegroup.com/home/

You spoke, and we listened! Ford club leaders told us they want a true connection with Ford, plus help in promoting their club, members and events as well as ways for their membership to save money. We want to help enhance the club members Ford ownership experience, develop a communication channel with our loyal followers and showcase the Ford performance vehicle lifestyle. With the new Ford Performance Group, its www.FordPerformance.com website, and Ford Performance Info Center, its a WIN-WIN for ALL!

Your club has been identified as being an important enthusiast organization to Ford, and we'd like you to become a part of this exciting new initiative spearheaded by Ford Racing. So pass the word along to ALL of your members about the opportunity for this beneficial link to Ford !!!
What does that mean? Some of you have been getting emails already about things happening with Ford Performance.

1. "Mach 1 Certificates of Authenticity" will be available to REGISTERED Mach 1 Owners In the Owners List. Your NAME MUST be on the owners list, (Which Ford Has a copy of) and we will send updates once a month, so if you are NEW, it might take a little while get listed and updated with FORD. PLEASE BE PATIENT.

The Certs are $38.50 for members, $42 for non-members. (Perk for being a member). 1-800-FORD-788 Make sure you on the Owners List First!!! http://www.mach1registry.com/owners Check the database listing.

2. Club Promotion o Each participating club is profiled on wwwFordPerformance.com o includes posting logo and link to club web site, with membership information and contact list o Club feature stories or major club events showcased on www FordPerformancacom home page

3. Club Event Publicity, Coverage and Support o Full club access to Ford Performance Group events and calendar o Pre-event promotion and post- event coverage showcased on vvww.ForclPerformance.com o Chance to gain other event support, including possible Ford participation, on case-by-case basis A Real Connection to Ford via the Ford Performance Group o Opportunity to team with Ford in product launches, media and consumer events o Request Ford help on product questions, vehicle information and member inquiries o Have club vehicles considered for Official Ford "Certificate of Authenticity" program

4. Inclusion in Ford emails and/or other Communications and Publications
- Club promotional and event information included in FPG emails to other Ford enthusiasts
- Club, event and momber exposure to other Ford and Ford Racing publications and communications
- Open access to having club and member vehicle info and photos featured in FPG vehicle archives

5. Access to Ford Performance Info Center 800-FORD-788 (1.800-367-3788)
Information clearinghouse on all Ford performance-related questions and concerns o Free technical assistance on performance questions via the Ford Racing Tech Line o Club membership information and referrals

6. Discounts on Selected Purchases through FPG Call Center o Ford Certificates of Authenticity (with discount to verified club members) o Sale of selected performance-related Memorabilia, Apparel and Accessories

Message Forum Thread for more info. - Click Here

What is your Certificates of Authenticity - Click Here

*** Exclusive! ***
Mach 1 Racing Jackets
Special Intro Price $125.00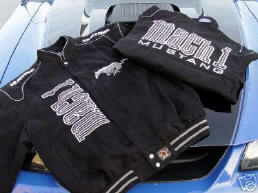 *** Click Here to Order ***
Limited QTY's, ALL Sizes Available!

Join thousands of other owners
of '03-04 Mach 1 Mustangs.
Click Here

MESSAGE FORUMS




Meet other Owners, discuss your cars,
Problems, events, anything and everything Mach 1 Related!
Click here
10 Anv. Mach 1 Registry
**SPECIAL EVENT**
Mach 1 Car Show Regional
All Ford Nationals
June 2-4 , 2012
Carlisle Fairgrounds
Carlisle, PA

More info
Click Here

www.Carsatcarlisle.com

PHOTOS





Huge Photo Gallery with over 6000
of Mach 1& Mustang Related Photos.
Click here