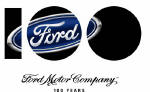 FORD CENTENNIAL-EDITION VEHICLES MARK
COMPANY'S FIRST 100 YEARS


More info on 100th Centennial Celebration: www.Ford.com




Ford Centennial Edition Vehicles with a Model T-100 in front of the Highland Park Assembly Plant.


WASHINGTON, Dec. 19, 2002 – Five new limited-edition vehicles, designed to mark Ford Motor Company's 100th year of building automobiles, will be displayed for the first time ever at the 2002 Washington Auto Show.
The three comprehensively-equipped Centennial-edition cars – the 2003 Ford Mustang, Focus and Taurus – and two trucks – the 2003 Ford F-Series Super Duty and Explorer – will be on display at the Washington Convention Center from Dec. 26 through Jan. 1, 2003.
In honor of Henry Ford, who established Ford Motor Company on June 16, 1903 and invented the moving assembly line, the Centennial-editions will be available in "any color so long as it is black."
In 1914, Ford famously ordered his Highland Park (Mich.) Model T factory to use black paint exclusively. The move was borne out of Ford's zeal for simplicity, efficiency and affordability: black enamel paint dried faster than other colors, which meant more cars could be built each day at a lower cost. The same year, Ford slashed the workday from 10 to eight hours and introduced the $5 per day minimum wage – more than double the prevailing rate.
The combination of low production costs, affordable prices and generous wages helped mobilize society: Model T prices dropped from $850 at introduction to less than $300 by the early 1920s, and annual sales soared from roughly 300,000 units to a peak of more than 1.8 million.
"Henry Ford's vision was to offer honest, reliable and affordable transportation for the masses. That's exactly what Ford stands for today," said Jim O'Connor, Ford Motor Company group vice president for North America Marketing, Sales and Service.
In addition to black clearcoat exterior paint, all Ford Centennial-edition vehicles include:

Premium Verona-grain Imola leather seating surfaces in two-tone parchment.

Ford 100th Anniversary deck lid and side badges.

A copy of the limited edition, lavishly illustrated coffee table book, "The Ford Century."

A commemorative key chain and watch.

Each vehicle also includes a black leather owner's guide portfolio with the embossed signatures of Henry Ford, his son Edsel Ford (company president from 1919 – 1943), Edsel's son Henry Ford II (company president from 1945 – 1960 and chairman from 1960 – 1980) and Henry Ford's great grandson, William Clay Ford, Jr. (chairman 1999 – 2001; chairman and chief executive office, 2001– present). Standard equipment for each Centennial model is extensive:

Ford Mustang Centennial coupe and convertible: 17-inch premium alloy wheels; anti-lock brakes and traction control; dual exhaust; power driver's seat with power lumbar support; leather-wrapped steering wheel; and Mach 460 AM/FM Stereo with six-disc CD changer.

Ford F-Series Super Duty Crew Cab Centennial Edition: leather-wrapped steering wheel and center console; overhead storage console; sliding rear window; power driver's seat; power windows; privacy glass; and a color-keyed rear bumper.

Ford Explorer Centennial Edition four-door SUV: 17-inch chrome wheels; chrome roof rack and grille; power driver and front passenger seats; fog lamps; AM/FM Stereo with in-dash six-disc CD changer; and leather-wrapped steering and center console.

Ford Focus Centennial Edition sedan: 16-inch aluminum wheels; rear spoiler; fog lamps; leather-wrapped steering wheel with tilt and telescoping column; AM/FM Stereo with CD and MP3 player; and driver's seat lumbar support.

Ford Taurus Centennial Edition sedan: 16-inch machined aluminum wheels; AM/FM Stereo with six-disc CD changer; power driver's seat; anti-lock brakes; power-adjustable pedals; automatic headlamps; leather-wrapped steering wheel and center armrest; simulated wood door and instrument panel trim; and anti-theft alarm system.


The Centennial editions will be available in Ford dealer showrooms in spring 2003. Production will be limited to 3,000 units each for Mustang, Focus, and Super Duty and 4,000 units for Explorer and Taurus. Pricing will be announced closer to introduction.

Source: Ford.Com