MAIN MENU
OWNER'S SECTION
CONTACT US
Official Ford Performance
Group Affiliate.

*SPECIAL PURCHASE*

MACH 1 LIMITED EDITION PRINT
CLICK IMAGE FOR DETAILS
**NEW & HOT**
2003-04 Mustang
2003 Brochure Available
Online Featuring the
Mach 1 ! (.PDF Format)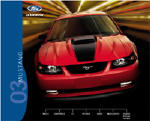 2003 Click to View

- - - - - - - - - - - -
* NEW* 2004 Brochure
Click Here to View
HOT *NEW* PRODUCTS



INDEPENDENT
DEALER
ORDER ONLINE!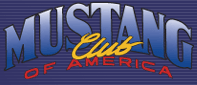 FORD "LIVING LEGENDS I" TOUR
TOUR SCHEDULE - Click Here


(Click for larger image)
Traveling from Los Angeles to Washington, D.C., from Dallas/Fort Worth to Chicago, Ford's Living Legends will hit the road this summer. The Living Legends Tour - a one-of-a-kind road show featuring modern day classics from Ford, such as Mustang, Thunderbird and the show-stopping GT40 concept - will crisscross the United States, stirring up excitement for car lovers throughout June, July and August 2002.
TOUR SCHEDULE - Click Here
"The Living Legends Tour is taking the excitement of a top auto show to the heartland of America this summer," says Steve Lyons, Ford Division president. "These Legends are keeping the romance of car ownership alive and well at Ford."

The Living Legends Tour is an annual series of summer events in which Ford supplies a catalyst of exciting cars that draw together automotive enthusiasts. Each year, the tour features something new and different. In 2000, the American Dream Car Tour traveled across the United States with three classic late-1950s Thunderbirds. After making appearances in 144 cities and towns, the three dream cars were raffled off to lucky enthusiasts who registered during the three-month tour. Last year, the 2001 Living Legends Tour hit 48 States and Canada, bringing all-new Thunderbirds and Mustangs to picnics, parties and parades across North America

This summer, automotive enthusiasts of all stripes will want to watch for the specially prepared, Living Legends car hauler as it weaves its way across the country. On board are Ford's Living Legends: the classic Ford Forty-Nine concept, the all-new Ford Thunderbird, the 2003 Mustang Mach 1 and, never before seen, 2003 Mustang Pony. The star of the tour is Ford's GT40 concept, an award-winning supercar project that will become a reality in 2003, as Ford Motor Company celebrates its centennial year.

"The Living Legends are unlike any vehicles in world - no company can match Ford's richly diverse automotive heritage," says J Mays, Ford vice president of Design. "These are the classics that make car lovers out of all of us. And to see them together in a group is quite an opportunity. They will create some excitement on the road this summer."

Ford's Living Legends Studio is a modern-day reflection of a legendary "skunkworks" team established in the early 1950s to develop a vehicle to compete with a roadster from a cross-town rival. This dedicated, small team of enthusiasts toiled after hours in a quiet corner of a Ford design studio in Dearborn, Mich. From their efforts was born a vehicle that today is considered a classic among classics: the 1955 Ford Thunderbird.

Today's Living Legends Studio - officially established in July 2000 - has more than one project on its plate. The studio serves as curator of Ford's classic nameplates, developing ideas and concepts for existing and new products - the future Legends - and guaranteeing that car enthusiasts will always be able to look to Ford for the great American dream cars. Ford's Thunderbird and Mustang, Forty-Nine and GT40 concepts are all Living Legends projects.

The Tour
The 2002 Living Legends Tour will bring the excitement of the Living Legends Studio to America's backyard. It will make stops at key automotive gatherings such as Fun Ford Weekends, NASCAR Winston Cup events, No Boundaries Experience weekends and a select few Mustang Club of America meetings.

Once the Legends are on display, they will quickly become the epicenter of excitement, as at least one of the vehicles on board is so new that relatively few people have seen it in person. Indeed, the GT40 concept debuted in January 2002 and has been shown in public at a select few auto shows. In February, Ford announced plans to build a production version of the 500-horsepoower, two-seat supercar in very limited numbers.

The Legends Tour schedule*:

June 1 - 2 Los Angeles
June 6 - 9 San Francisco
June 12 - 16 Tulsa, OK - MID-AMERICA MEET
June 27 -28 Washington, D.C.
June 29 - 30 Richmond, VA - Fun Ford Weekend
July 4-6 Daytona Beach, FL
July 11-14 Norwalk, OH - Fun Ford Weekend
July 18-21 Loudon, NH (Cancelled)
July 25-28 Watkins Glen, NY (Painted Post, NY)
Aug. 1-4 Bristol, TN
Aug. 2 Nashville, Tenn. at the Country Music Hall of Fame
Aug. 3-4 Bristol, Tenn. at the Bristol Dragway Fun Ford Weekend
Aug. 8-11 Fort Worth, Texas at the Yellow Rose Classic Car Show (Mustang Club of America)
Aug. 17-18 Berkley, Mich. at Woodward Ave. (Woodward Dream Cruise)

Aug. 28-Sept. 1 Charlotte, NC at Lowes Motor Speedway
(Thunder in Carolina Grand National Mustang Show)

Sept. 6 Chicago, Ill. at T.B.D. location
Sept 7-8 Cordova, Ill. at Cordova Dragway - - Fun Ford Weekend
Sept 26-28 - Arizona

Oct. 1 - Tour Ends

Look For Living Legends II - Next Year!!!

---
The Cars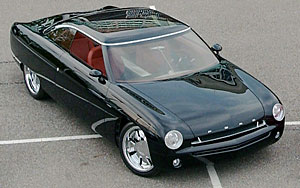 Forty-Nine Concept: In 1949, postwar America was ready for an automotive design revolution. It came in the form of the 1949 Ford, the first new design from Ford following World War II. Fifty years later, the all-new Ford Forty-Nine custom coupe concept made its debut at the 2001 North American International Auto Show in Detroit. The sleek, black Forty-Nine concept harkens back to the romance of a Friday night at the drive-in or bowling alley, listening to rock-and-roll and cruising the strip in a chopped and channeled custom car.

To create the all-new concept Forty-Nine, Ford designers went back to the car's roots - simple shapes, excellent proportions, clean body panels and modern conveniences. The exterior finish is velvety black with bright chrome wrapping around the greenhouse and modest chrome accents elsewhere, such as its badging and 20-inch chrome wheels. The concept is powered by a 3.9-liter, 32-valve V-8, tuned to fit the car's appearance and refined muscle.

The Ford Forty-Nine concept is one of only two in existence - a convertible version of the classic black coupe was created for the 2002 North American International Auto Show.

---
GT40 concept: It was in France, in the mid-1960s, that the great American supercar came to life. A low-slung, muscular racing car built to win on the legendary Le Mans race circuit, the GT40 project was spearheaded by company Chairman and CEO Henry Ford II. His goal was to change performance car history. And he did. The GT40 beat the world's best in endurance racing, placing 1-2-3 at the 24 Hours of Le Mans in 1966 and winning the next three consecutive years.

The new GT40 concept was created to celebrate that great era in Ford's history and look forward to the great years to come. The new concept and the original racer share the mystique of the GT40 name, yet they share not a single dimension. The concept is more than eighteen inches longer and stands nearly four inches taller. Its new lines draw upon and refine the best features of GT40 history and express the car's identity through modern proportion and surface development. It's low-slung posture and muscular arches hint of future performance to come.

In February 2002, just 45 days after the GT40 concept debuted at the North American International Auto Show, Ford announced its intention to build a production version of the award-winning concept. When it debuts in 2003, the 500-horsepower supercar will be the third Living Legend brought to life by Ford's Living Legends Studio. See more about this Concept.
---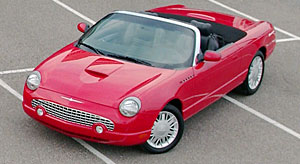 Thunderbird: The classic American dream car debuted in 1955 and quickly achieved celebrity status. For 42 years, from 1955 to 1997, Thunderbirds of many shapes and sizes graced the American road. Yet one era stood out among them all in the fond memories of automotive enthusiasts - the 1950s. Immortalized in movies and on the small screen, this era's Thunderbirds created a style all themselves that was never quite repeated or replaced.

The all-new Thunderbird returned to the Ford lineup in 2001 after a four-year hiatus and emerges as a modern interpretation of the 1955-57 roadsters. Ford's 2002 Thunderbird represents the best of both worlds - design cues that started an American love affair with the original roadster and the technology of the 21st century - making it a modern motoring icon.
---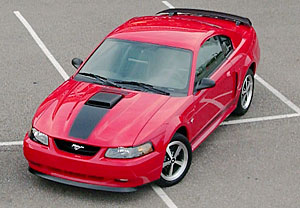 Mustang Mach 1: On April 17, 1964, Ford's Mustang rolled onto the streets and changed the automotive world. With its low profile, long hood and short rear deck, Mustang promised performance, style and enough options for buyers to express their own personality. The original Mustang is still considered one of the greatest automotive success stories of all time.

Today, Mustang shares this heritage in performance and design and outsells every other car in the hotly contested small-specialty segment. The legendary Mustang is also the best-selling convertible in America and a preferred racer on local tracks all over the country. For 2003, Ford is fanning the flames of enthusiasm with two special-edition Mustangs - the Mach 1 and Pony - both of which are showcased on the Living Legends Tour.

Source: FoMoCo 2002